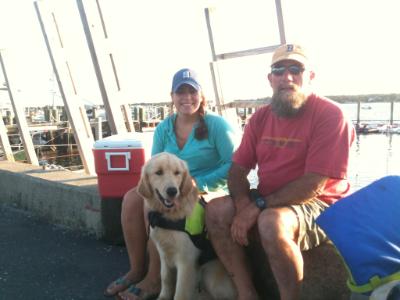 Halcyon Kennels is a father-daughter team. Peter is a retired contractor, and has loved and bred Goldens since 1979. Bridget is a graduate of the University of New Hampshire with a major in Animal Sciences and a minor in Dairy Management. She attended Ross University School of Veterinary Medicine in St Kitts, then finished her clinical training at the University College Dublin in Ireland. Bridget is now a veterinarian, practicing in Fairhaven, MA. Bridget has been helping her father whelp litters since she was a young girl.
Our dogs are a huge part of our family. We wouldn't be complete without them! Our puppies are raised in our home and are given constant attention from family, friends and visitors. This results in a dog that everyone wants- eager to please, easy to train, friendly and outgoing.
We have owned and bred Goldens since 1979, and have loved every second of it! We breed because we love dogs and want to improve our breed for the future. We perform health clearances in hopes of producing litters that will be stronger and healthier than the previous generation. We carefully plan each mating by researching bloodlines, complementing dam and sire characteristics and noting the quality of each health clearance.
Our lines contain many champions, as well as other outstanding hunting, agility and service titles. We believe in breeding to the standard, but our primary focus is on health and temperament.
We love to talk about our dogs and show them off! We've been told many times the pictures on the website are no comparison to how beautiful our dogs are in person. If you would like to visit, have any questions, or would just like to chat, please do not hesitate to call or e-mail us!